News
Audio-Technica ATH-M50 and ATH-M50s Studio-Headphones - New in stock
30.08.2013 11:23
One of the best studio headphones in this price range - The ATH-M50 Audio-Technica. Many professional studio people already love this headphone - we recognized this trend and are happy to offer this headphone and go into deph now. There are two versions which differ by only the cable type - ATH-M50s "s" straight has a straight cable and the ATH-M50 a coiled/twirled one. Further important qualities are:
Softpuffer und soft ear caps (easy to clean  faux leather as coating material) for long mixing-sessions. Very comfortable.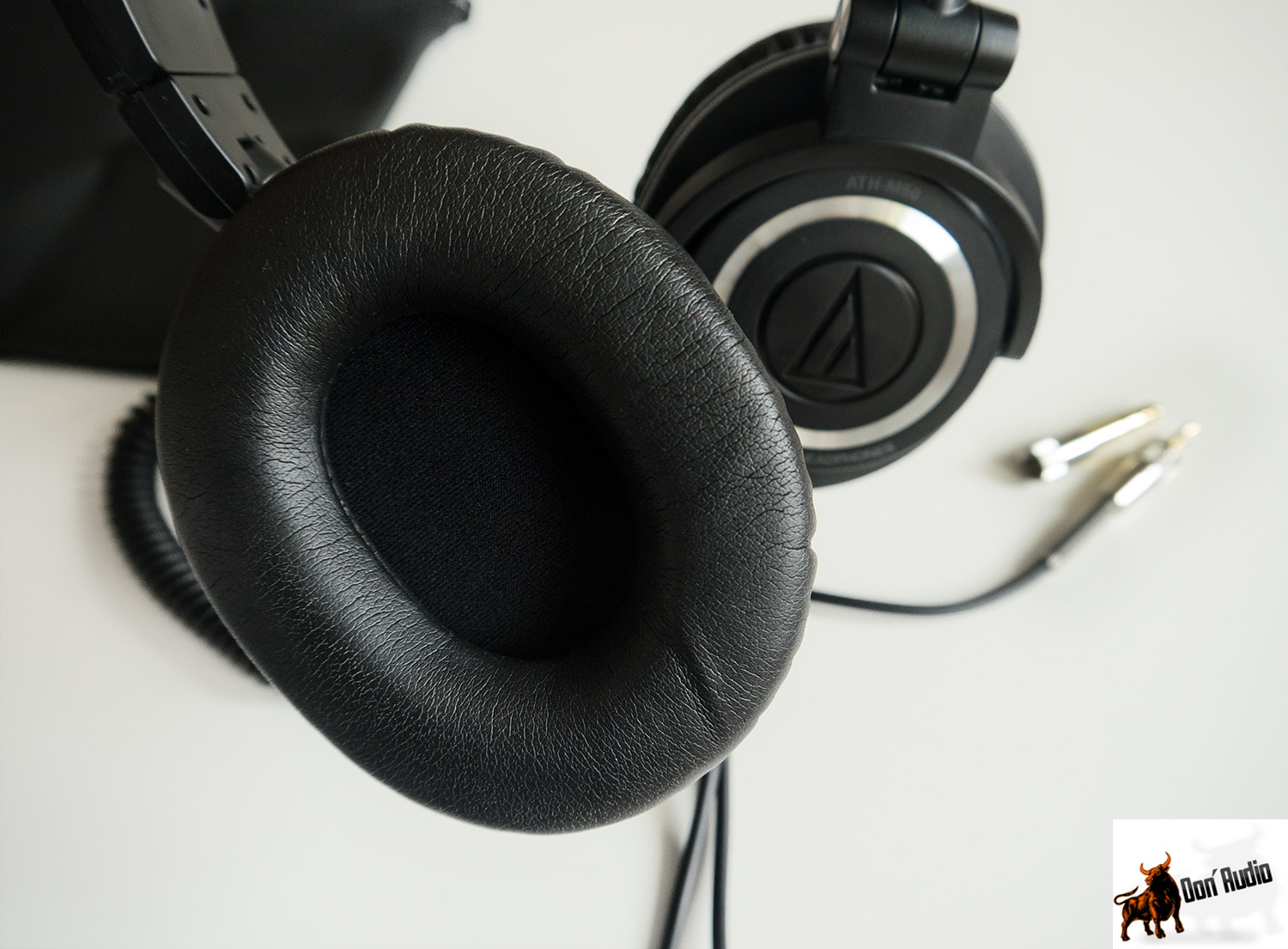 Audio-Technicas neodym-magneticsystem gives a very outstanding sound-quality with a wide frquency response from down under 15Hz to above 28Khz.
Ear caps can be turned 180° to the sides, angled or tilt upwards. If you tilt the caps up the M50 Headphone becomes very small and does not take much space on your studio desk.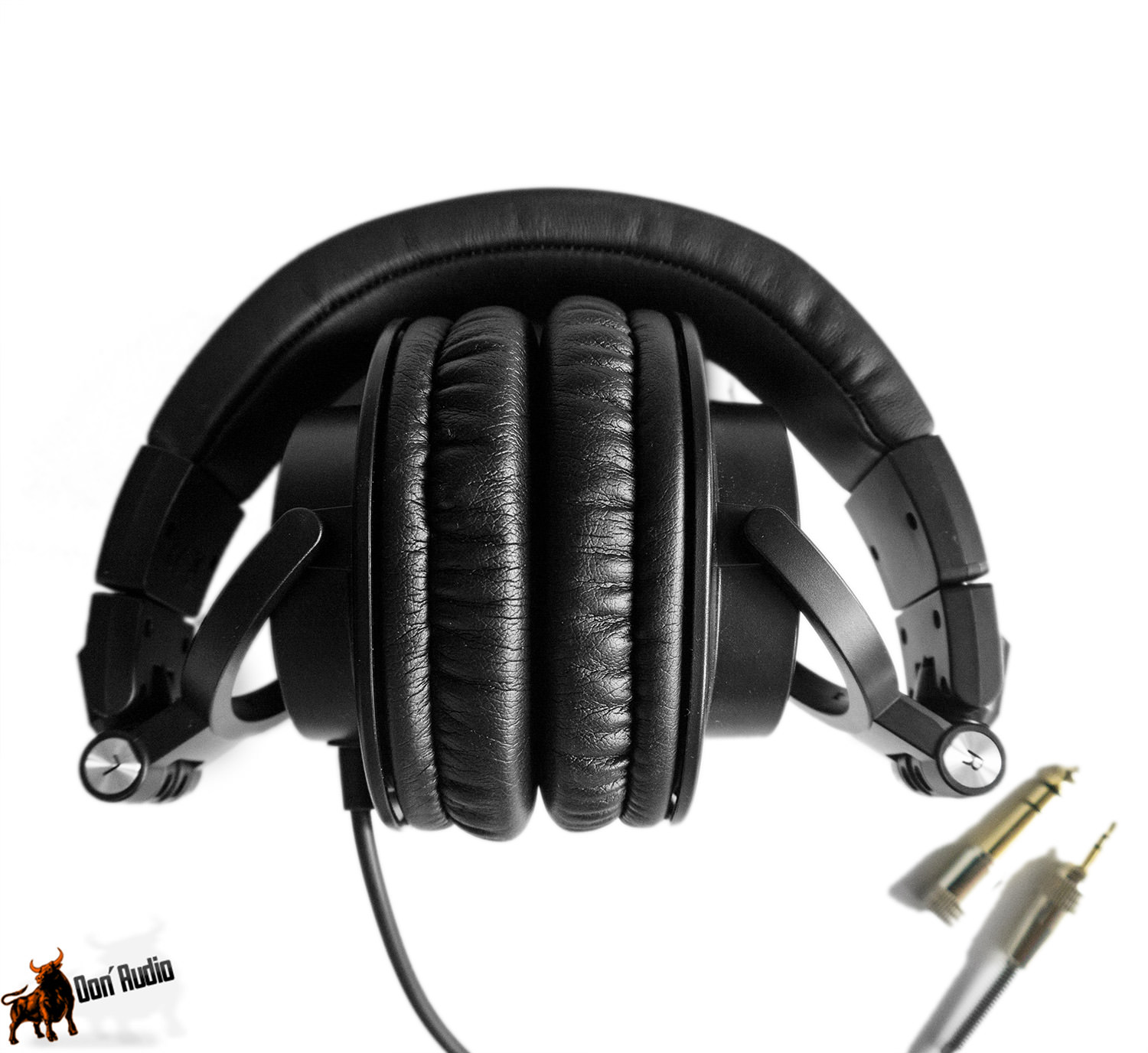 Head bow can be adjusted stepwise to any head-size. The steel frame makes a solid impression.
Audio-Technicas ATH-M50 and ATH-M50s Studio-Monitor headphones are closed headphone-systems. Due to the closed system the outgoing sound is reduced to a minimum.
Ear cap coatings are replaceable
6,3mm jack and a bag are inclusive.

Here a detailed view of the Back- and Frontside of an original Audio-Technica ATH-M50 driver.
Golden circuits, transparent to yellow board
One from the jack comming to the driver going cable which is soldered to two contacts at the board.
The sound holes on the backside are covered by an white acoustic fleece. On the opposite part of the headphone you can see a steel-clamp that clamps a fleece pad to prevent vibrations and optimizes the sound.
Black foam under the internal cover in the center hole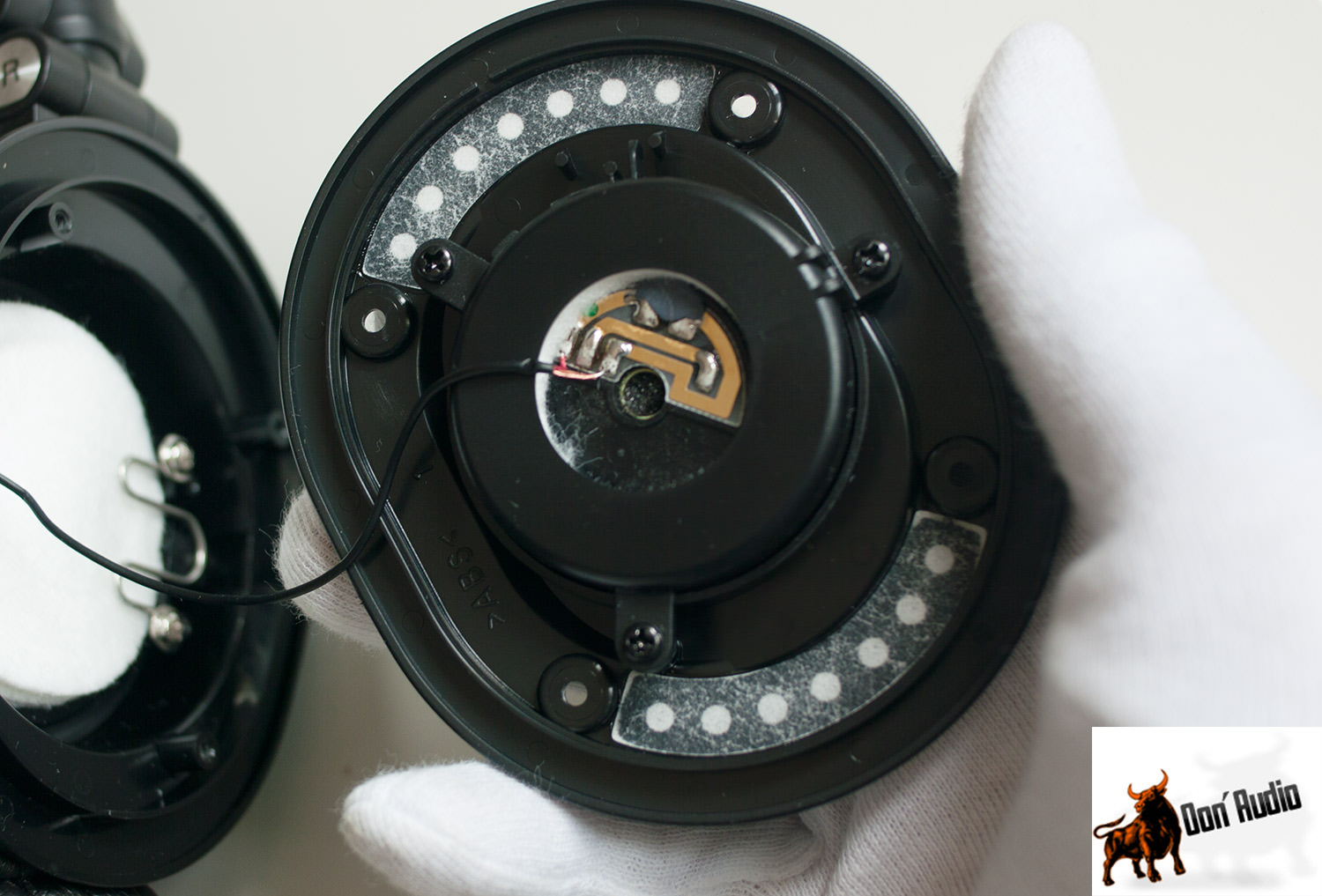 Inside view of the right cap
On the front you can see a label with a number printed on.
The material of the driver-protection in the center of the cap is varnished glossy-black and looks different to the dull outer plastic material.
If you look trough the sound holes you can see a blue line and a white outer area in the driver. The membrane sits exact behind the centered bow.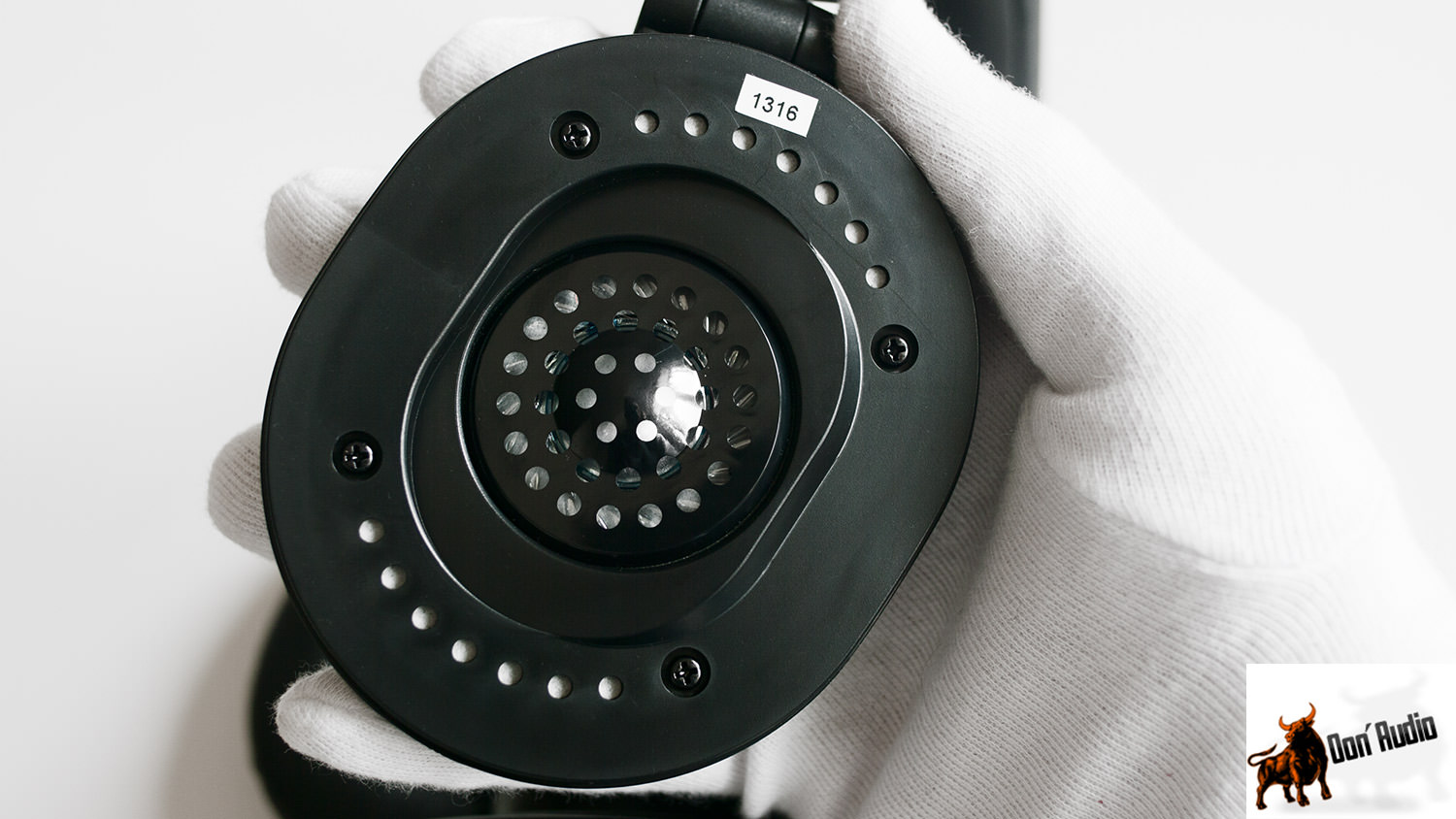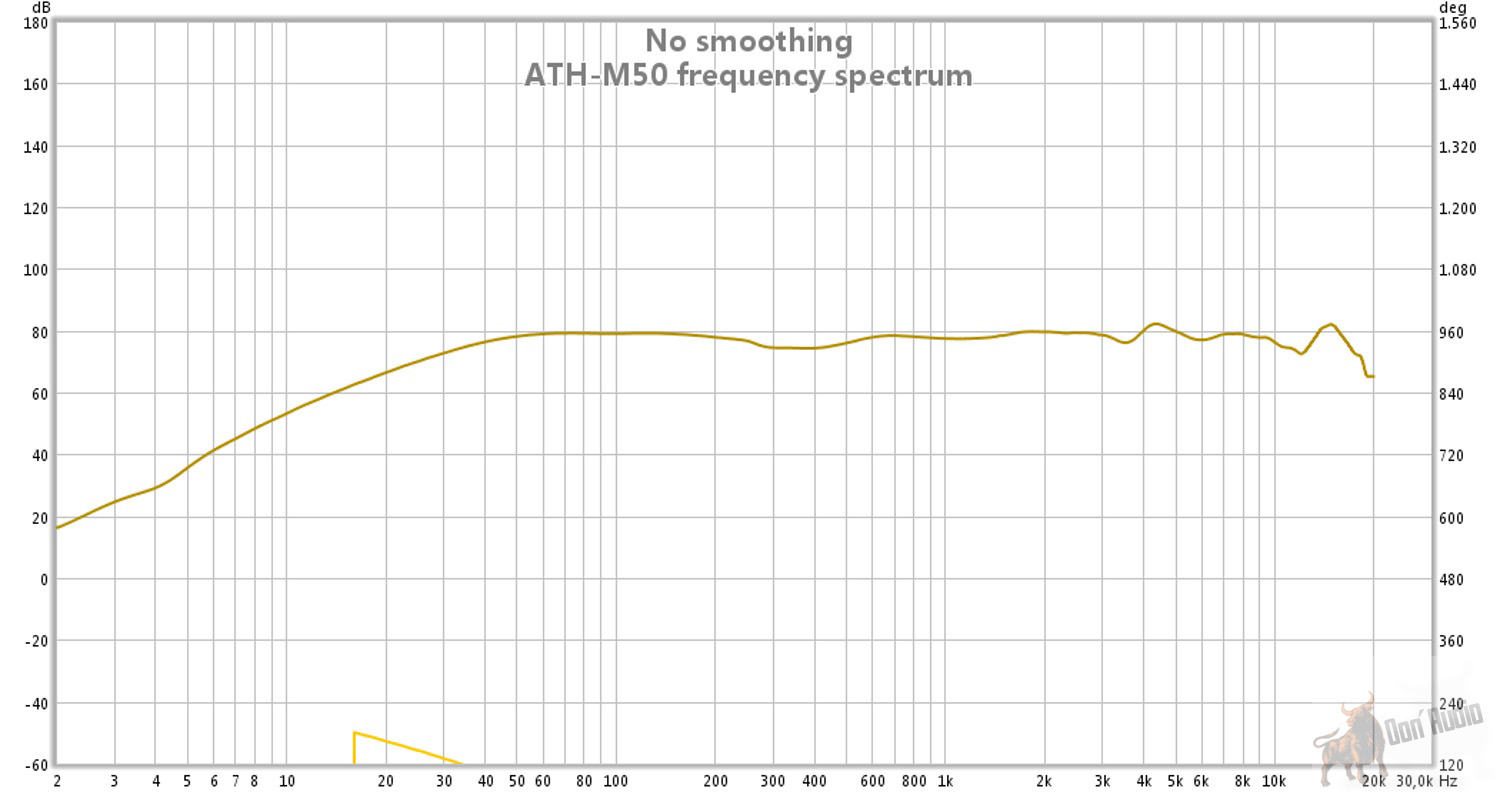 Audio Technica ATH-M50 - Frequency response graph - measured with FireFace 400, MKH40 with a driver distance of 1cm, REW.
Buy Audio-Technica ATH-M50 or Audio-Technica ATH-M50s from Don-Audio.