Neutrik NLT4MD-V Speakon 4 pole male chassis connector, metal housing, vertical PCB mount, self tapping screw holes (A-screw)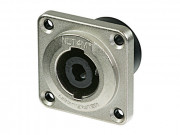 Must be ordered. Ready for shipment in 50 days

Shipping time:

51 - 52 workdays

The speakON panel mount connectors are the standard chassis connectors for loudspeaker / amplifier interconnections. They feature a unique metal locking system, making contact only once fully locked. The speakON receptacles are robust, versatile and easy to terminate.