Category
Manufacturer
Gear
Switching mode
Description
Very robust and versatile 24 Position Multi Wafer Selector Switch.
Very robust and versatile Selector Switch up to 24 Positions.
Elma Type 04 switches are a configurable general purpose audio switches with changeable start and an end stop pin and endless turning versions as well. We have also stop pins available if you only like to have 11 or less positions within a 15° or 30° switching angle, you can set the stop pin wherever you like to have the end stop for this switch set to the position you like to make the switch stop.
Up to 24 Positions multi wafer selector switch
Very robust and versatile
25,000 switching cycles with up to 20.0 Ncm switching torque
Torque: 1,5Ncm, 8Ncm (standard), 15Ncm, 20Ncm
Gold plated contacts: 3 micron
Robust metal housing with metal shaft
Optional IP68 front panel sealing
Operating temperature range: -40 to +85°C
Various options and customization
Switchingmode: 15° Indexing angle for shorting versions and 30° for non-shorting versions.
6mm shaft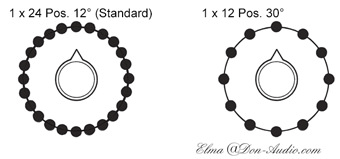 This rotary switch is also available as concentric version. Please get in contact with us - we will make an offer for you for the concentric version.
Customer-Pics
Log in to upload a pic!
---
At moment there are no customer pics for this product.